Caldus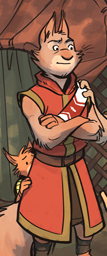 Gender:
Male
Origin:
Terria, Sunsgrove
Family:
Quinlan (Grandson)

Unnamed Son[1]

Allegiance:
King Dabheid of Terria
Occupation:
Military Officer, Nobleman
Rank:
Captain of the Royal Guard
Weaponry:
Tesque
Status:
Deceased
Appearances:
Beyond the Western Deep (Flashback)

The Land's End (Mentioned)
"Your grandfather did a lot for the Tamian. You can't inherit that respect overnight."- Janik [2]
Caldus[3] was a well-respected Tamian warrior and Quinlan's paternal[4] grandfather.[5]
Personality
Caldus was fearless and loved battle, to the point of being disappointed when there were no more wars to fight.[6] Caldus was stubborn and very set in his ways.[7] When Quinlan became a scout instead of a soldier, Caldus called him a coward and nearly disowned him[8] because he felt that Quinlan's aversion to battle was a direct insult to everything he had risked his life for in his youth. He believed that if one was not a warrior, they were a coward.[9]
Relationships
Caldus was deeply respected by all the Tamian.[10]
Caldus' son was a non-violent person by nature. He rebelled against Caldus and became the Royal Archivist instead of joining the guard.[11]
Caldus and Quinlan had a rocky relationship. The multi-generational gap and their different attitudes towards combat led to many heated arguments.[12] After losing his son to menial work, Caldus did not want Quinlan to follow his father's path.[13]
When Quinlan chose to become a scout instead of a soldier, choosing obscurity over the glory of a soldier, it offended Caldus, who nearly disowned Quinlan.[14] Despite their differences, it was Caldus' dying wish that Quinlan succeed him as Captain of the Guard.[15] After Caldus died, Quinlan missed his grandfather and mourned his passing.[16]
Caldus and Dabheid had a close relationship.[17] In a flashback, Dabheid is shown honoring Caldus in a ceremony.[18] Dabheid granted Caldus' dying wish of making Quinlan the next Captain of the Guard,[19] passing over the rightful candidate in the process.[20]
Caldus and Kenosh were close friends.[21]
Clovis respected Caldus, calling him 'a fine warrior' and noting his death was 'a shame'.[22]
Clovis was unaware Caldus had passed on, assuming he had retired when introduced to Quinlan.[23] Upon learning the truth, Clovis began to express his condolences, but was distracted by a Canid Trainee.[24]
Skills
Caldus is "the ideal Tamian warrior- fearless, acrobatic, deadly up close and at a distance."[25] He held the rank of a Tesque master.[26]
In a flashbask to his youth Caldus was seen wielding a swords, and he knocked over a nearby rack of swords when Quinlan confessed to joining the scouting forces,[27] indicating a possible affinity with swordplay. It has been confirmed that he was not an archer.[28]
History
Pre-Series
Caldus grew up on the battlefield and was honored in a ceremony by King Dabheid.[29]
He saved the king and his family from quite a few tough situations.[30]
Caldus fought and distinguished himself in the Oran Uprising, but he never talked about it,[31] except to tell his grandson stories of Ermehn cruelty.[32]
At some point, Caldus became Quinlan's legal guardian. When Quinlan chose to become a scout, Caldus nearly disowned Quinlan.[33]
Before he died, he chose Quinlan as his successor to the Captaincy of the Royal Guard. [34]
Post-mortem
The day Dakkan and Kenosh arrive in Terria, Quinlan reminisces about his grandfather, and concludes he will never inherit the respect his grandfather earned.[35]
Caldus' name is successfully invoked by Crim to manipulate Quinlan into a public Tesque demonstration.[36]
Physical Description
In his youth, Caldus wore a red and green tunic with light plate armor and a red bandanna tied around his head. [37]
As Captain of the Guard, he wore a hooded brown tunic with green accents.[38]
Gallery
Appearances
Trivia
References