Unknown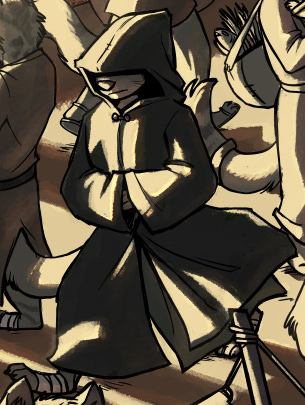 | | |
| --- | --- |
| Gender: | Unknown |
| Status: | Alive |
| Appearances: | Beyond the Western Deep |
"I am one of the few left to tell this tale."
-Cloaked Figure[1]
The Cloaked Figure is an Ermehn who appears in the prologue. Very little is known about this character.
Appearance
The figure wears a brown cloak that conceals most identifying features.[2] All that can be ascertained is that the Figure is an Ermehn, because of the body shape and the tail that sticks out under the cloak.[3][4]
Underneath the cloak, the figure wears a green tunic.[5]
History
After passing through the city,[6] the Figure is welcomed into The Spire of Gair by a Felis scholar.[7] The scholar leads the Figure through the Spire of Gair[8] to the well-guarded room at the apex of the Spire,[9] where the most important historical tomes are stored.[10] The Felis begin to record the Figure's story.[11]
Appearances
Beyond the Western Deep: Prologue- Pages 1-3, 5
Trivia
Although the Cloaked Figure seems to be on good terms with the scholars, the guards do not seem to like the presence of the Figure in the Spire. [13]
References
Ad blocker interference detected!
Wikia is a free-to-use site that makes money from advertising. We have a modified experience for viewers using ad blockers

Wikia is not accessible if you've made further modifications. Remove the custom ad blocker rule(s) and the page will load as expected.