This article's name is non-canon, and will be replaced with the canon name when one is revealed.
Scarred Canid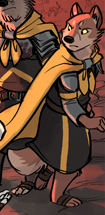 | | |
| --- | --- |
| Gender: | Female |
| Status: | Unknown |
| Appearances: | Beyond the Western Deep |
Personality
Relationships
[[]]
Skills
History
Beyond the Western Deep: Chapter Two
Diplomatic Differences
As Clovis entertains the Sunsgrovian envoy, Scarred Canid interrupts with news of a campfire.[1] She tells him the campfire is near the second marker.[2] After Clovis orders his soldiers to detain the Sunsgrovian Envoy,[3] she leads him out of Deltrada's keep.[4]
Description
Appearances
Beyond the Western Deep: Chapter Two, Pages 44-47 (Present)
Trivia
References
Ad blocker interference detected!
Wikia is a free-to-use site that makes money from advertising. We have a modified experience for viewers using ad blockers

Wikia is not accessible if you've made further modifications. Remove the custom ad blocker rule(s) and the page will load as expected.